Champions & #1 contenders
Reduced Post Rate
Tue Jun 27, 2017 12:14 pm by RadiantKarna332
For those who are currently roleplaying with me in threads, you guys may have noticed my reduced post rate. I'm sorry for being so late to inform you guys about this, but due to some real-life businesses, I have no choice but to post infrequently compared to usual. I'm so sorry about that.
So, I will return to my normal schedule next week, so please don't worry about me not posting. Have a nice day.

Comments: 0
Active Kawaiis
Sat Jun 24, 2017 1:25 am by Daaharu
Hey, guys. I'm hoping to get a sense from everyone of where the active kawaii girls are at. No guarantees or anything, but I am looking to figure out who is out there consistently making matches because we are looking to inject some new blood into the kawaii title scene, and I don't want to have tunnel vision on just the players and characters I know.
So, if you've got a kawaii girl who's had at least one match and is currently active, can you let me know either here or via PM or IM? This …
[
Full reading
]
Comments: 6
Ending RPing
Sun Jun 25, 2017 7:04 am by KillerV
After I finishing up couple of threads, I am officially done RPing here. I apologize to you guys currently with me and even the future ones. But I am just tired of it, not going into too much details as it makes me feel like ranting so much, rather not.
But will still be here just to read n respond, as for Trillian, wont able to contact me soon, rather send PM here instead.
Good luck with everything.
Also, NOT gonna give King, rather not see people using him like
[
Full reading
]
Comments: 7
Page 3 of 12 •

1, 2, 3, 4 ... 10, 11, 12

Okay, just got back from Amazing Spider-Man 2. I liked it.
I won't lie, it's a bit of a cliche movie. I kind of want to take off some points for some obvious heartstring-pull moments that don't all hit the mark, but I have to say - there was one moment right at the end of the movie that had me tearing up despite how corny. It involved a kid, and I love kids, so it could just be me being a sucker for that sort of thing.
I think they kind of botched Electro - Jamie does a good job with him after he gets powers, but before he comes off as this really weird caricature that doesn't quite work. I think Harry Osborn worked well - his motivation is pretty much not to die from this disease he learns about early on, which is fairly understandable, and most of efforts, while jerkish, makes enough sense.
Anyway, had some good action scenes, Andrew and Emma do a good job selling the romance, and while I think a lot of it felt like setup for Amazing Spider-Man 3, it held up on its own. I had a good time.
And I still say it's better than the first trilogy.
" title="cookie" />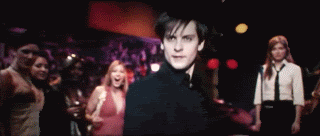 _________________
FIGHTERS READY, ENGAGE.
SELECT:



Posts

: 2819


Join date

: 2013-01-04


Location

: -



I want to see Godzilla. Rawr!



Posts

: 7322


Join date

: 2010-03-05



Yeah, I am SO looking forward to that one. I think Mothra's in it, too!
I hope they don't make a piece of shit like the one with Mathew Loser Broderick was.



Posts

: 7322


Join date

: 2010-03-05



I think that's pretty much impossible. The presence of Bryan Cranston alone ensures that it will be better than that Godzilla.
If researching politics has taught me anything: it is that there is always more shit and it is always worse.
_________________
Under construction

Adrian Kytes (Face)
Rebecca Tomko (Heel)
Sabine Shanoa (Face)
Tina Armstrong (Face)



Posts

: 6159


Join date

: 2011-04-25



[quote="kerflubble":1otm4l5s]If researching politics has taught me anything: it is that there is always more shit and it is always worse.
Eh, I guess. I really want to be optimistic about this one, though. I was a big Godzilla fan when I was younger, the possibility of him coming back like this is just a dream come true. First Pacific Rim and now this...
If Godzilla ends up being less then amazing, I will never let any of you hear the end of it.

My rage will be the rage that ends the Earth.



Posts

: 10695


Join date

: 2009-06-21


Age

: 31


Location

: Neo Cyber City, 3 A.M.



Godzilla's the one with the great big dino, right?



Posts

: 11144


Join date

: 2010-10-13



Page 3 of 12 •

1, 2, 3, 4 ... 10, 11, 12


Similar topics
---
Permissions in this forum:
You
cannot
reply to topics in this forum