Champions & #1 contenders
Summer Splash interest in Natasha Loclear?
Mon Apr 09, 2018 11:30 pm by daemongirl
Well my girl hasn't missed a summer splash yet, would anyone be interested in a match with her? Open to just about anything match wise, just pm me!
Comments: 1
Been Out with the Flu
Sun Apr 22, 2018 7:47 pm by daemongirl
Just letting those I have threads with know I've been out with the flu since early last week, but I will be back to posting tomorrow.
Comments: 0
The Austrailian Mudslide is Back.
Sat Apr 21, 2018 6:20 am by Softsquad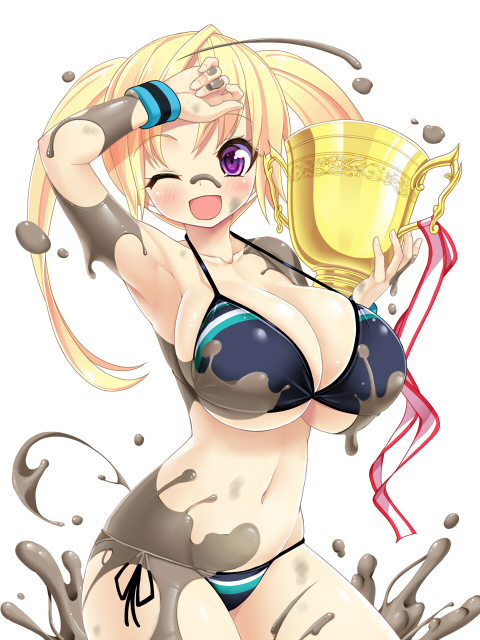 Granted that most of you won't know me or remember me, but I've had a few matches here and there some time ago. Well I think its time to become a regular around here and try to have some fun again, but at the same time keep coming back. Anyway I think its time to jump into some matches with Zoe Taylor, my mud wrestling character from Australia and get her back into the squared circle. Furthermore I will update my characters as I think some proper changes need to happen.
So if anyone would …
[
Full reading
]
Comments: 0
Page 18 of 19 •

1 ... 10 ... 17, 18, 19


"Uuchk!" Mamouru groaned. "I'M NOT LAUGHING!" He shouted back. he was still on the ground, leaning on his elbow and panting as he looked at Cassie. His eyes searched her cold, neutral ones.

"Cassie-san." Mamouru said through gritted teeth. "I wasn't MESSING with you!" He said hurriedly. She wasn't going to give him much time. "I care for you! I never saw you like any other girl, like those other sluts!" He said and motioned over to Brittany and Morrigan.

"Do you know how hard it was to pull away when you kissed me?! It was everything I wanted. I wanted to be with you! I wanted to be happy! You made me want to be a better man! I was becoming a better one! You made me happy! I didn't want to throw that away by treating you like all those other girls!"

Mamouru's fingers dug into the grass. "You tossed me out!" He said. "If you wouldn't have fired me, that match never would have happened! I wouldn't have said those awful things to you!" Mamouru lowered his head. "I get it, Cassie-san." He said as he closed his eyes.

Morrigan stared at Brittany and shook her head, letting the spit dribble off her face. "Listen, bitch." She said in a calm tone. "This doesn't have shit to do with Taylor. I don't give a fuck if you want to mess with her. Maybe don't be such an idiot and do it where half a dozen people who want to kick your ass are standing right by it. Maybe don't do it where your ass could just get arrested. What I'm pissed about is that you went to ride a cock while I was in the FUCKING HOUSE! Fucking a ring skank is one thing, but some piece of shit just looking to stick it in a hole? What the hell is WRONG with you!? Do you even HAVE a brain!!?" Morrigan's last words were spoken with almost a tone of concern in her voice. Her brow wrinkled ad she stared at Brittany expectantly.
Last edited by 445 on Wed May 07, 2014 7:20 am; edited 1 time in total
Brittany was taken aback by Morrigan's sudden outburst. "Of course i have a brain." Brittany said as she looked up at Morrigan. "And don't act like this is all my fault. It wasn't my choice to not have my back down in the theater room. If the roles were reversed nothing would have stopped me from punching the first bitch who insulted you. But no, you have grown all friendly and weak." Brittany said as she stared into Morrigan's eyes. "And besides. You know that no matter who i fuck i will always go back to you. I mean no one can fuck like you do." Brittany said as a smirk crept onto her face.

_________________
Characters

The Den
"If you had believed in me, I wouldn't have fired you."

Cassie advanced within shoot-distance of Mamouru. She dropped into a low half-crouch, knees bent and hands ready at her waist, her eyes not straying from him for a moment.

"If you care about someone, you don't want to hurt them. You try not to hurt them," Cassie calmly explained. "And lies hurt. If you care about someone, you tell them the truth!"

With that, she drop-circled to the side and lunged on Mamouru, pinning him down with her body. She laid across him and pinned his wrist to the ground, palm up, by his head. She began quickly and methodically working on sliding her arms into place to apply leverage to push his wrist and lift his elbow up, to twist his arm backward at an excruciating angle.

"Tell the TRUTH, Mamouru! Tell the truth and I'll let go!"
Johnny stepped out into the backyard and looked at Taylor. He looked over the scene and grimaced. He stepped behind Taylor and put a hand on her hip just to let her know he was there.

Mamouru wasn't going to fight against Cassie. He already knew how menacing she was and if she wanted to hurt him, he probably wasn't going to do anything about it. At least not in this setting. He didn't want to though.

"What!?" He yelled. "That doesn't make any sense, Cassie-san! How could you think I didn't believe in you!?" Mamouru's eyes widened. No matter what he had done to Cassie, on purpose or on accident, Mamouru had always believed in her. There was no doubt about that for a second.

She was on him before he could say anything else. He didn't even resist when she climbed on top of him and pinned her down. When she slowly pulled his arm into place, Mamouru winced. "G-ah.. haaaanh!"

Mamouru's face tightened and he shut his eyes. "What!? What the hell do you want to know!?"

"You're so fucking short sighted." Morrigan growled as she stared down at Brittany. "Sticks and stones... ever hear that? All she wanted to do was make you apologize for fucking swirling her grandma! Fuck, she runs her fucking mouth all the damn time! If you could figure out how to say something other than BITCH then maybe you could dish it back once and a while!"

Morrigan pushed her lips against Brittany's ear, making sure that the taser was still in Brittany's neck but switched off. "If I took a swing at her every time she mouthed off to me, we wouldn't even be at this party. When she runs her mouth, I just tell her to fuck off. Or I give it back to her. I don't start swinging. "

Morrigan pushed one hand into Brittany's boob and pushed herself so she was sitting up and straddling her. "This has nothing to do with her, anyway. Now, fucking apologize to her. You'll definitely be apologizing to me when we're back home." Morrigan lifted her head up and stared at Brittany, not budging with the taser.
Last edited by 445 on Thu May 08, 2014 7:59 am; edited 1 time in total
Brittany gritted her teeth as Morrigan pushed the taser into her neck. "And what do i have to apologize for? Ruining this party? I did no such thing. I am not the bitch tossing people to the ground or the other bitch who has a taser to someones neck. And if you actually think i will apologize to you or that bitch you might as well pull the trigger on that taser now." Brittany said as she refused to back down to Morrigan even as she felt the taser push painfully into her neck.

_________________
Characters

The Den
"Tell me the TRUTH!"

Cassie's voice was angry, but she was still fully in control of herself, almost eerily so. She used smooth and deliberate force, precisely applied, to twist Mamouru's arm enough to cause him pain, more than a little, but she wasn't so reckless as to risk injury. She didn't want to hurt him. She wanted him to stop his lies.

"Tell me what you wanted from me! Tell me why you did what you did! Tell me how you really feel, and if you don't tell the truth I swear I'll... I'll..."

Taylor stood helplessly by in the grass and watched the scene play out with one hand over her mouth. She leaned back against Johnny, and spoke without her eyes leaving Cassie. "Babe, should I... What should I..." She glanced back at him, over her right shoulder. "She won't really... you know..."

The other squabble happening behind them on the porch might have also been out of hand, but while Taylor was preoccupied, it was out of mind.
Johnny stepped behind Taylor and wrapped his arms around her. "It's cool, babe. Cassie knows what she's doin."

"Ahhaaaah!" Mamouru yelled when Cassie wrenched his arm. "Fuck! Cassie-san!" He said and shut his eyes. "I... I wanted to be by your side! I swear it!" Mamouru clenched his teeth. "I never wanted to hurt you! I... wanted to... be a better man..." Mamouru's eyes shut even tighter and suddenly he felt something hot splash against his closed eyelids. "I've never felt the way you made me feel. I wanted to be better but I didn't know how! Everything I was doing, I thought it would make you stay. I didn't want you to leave me and... when I saw that you were, I got desperate! I was acting without thinking! I honestly thought if I could show you that I could manage someone to wrestle you and beat you that you'd take me back!"

The tears began to drip down his cheeks. "I didn't care that I couldn't be WITH you, I knew I wasn't good enough for you! But... being by your side... that was good enough! It was enough to try and make me be a better man! I just couldn't bear the thought of you leaving me. Cassie-s-san." Mamouru opened his bleary eyes and looked up at Cassie.. "I'm sorry, Cassie-san.. I'm sorry I hurt you. I never, ever wanted to. I'm sorry...' He said, wincing in the hold.

Morrigan listened to Brittany with narrowed eyes. "I don't expect you to apologize to her, you're right." Morrigan said. "That's asking too much. I wouldn't do it if I were you. But you sure as HELL owe ME an apology.' Morrigan said.

"We'll talk later, Lover." Morrigan's eyes lowered and he flashed a sad look at Brittany. She then pulled the taser down and jabbed it into Brittany's side until she was unconscious. She then leaned forward and kissed Brittany's lips before she stood up and sighed.
Brittany let out a laugh as Morrigan said she owed her an apology. "I guess we will have to see if you get one then." Brittany said as she felt the taser poke her side and she knew what was coming next. Brittany gritted her teeth as Morrigan kept the taser pressed firmly into her side. It would not take long until Brittany was passed out under Morrigan and her body twitching every now and then.

_________________
Characters

The Den
Cassie cringed. She closed her eyes and tried to weather Mamouru's torturous words without breaking down, but every word seemed to bring her closer to pitiful, helpless tears. She wanted to believe him, if only to ease the pain of everything past, but she couldn't. The part of her that kept her safe rebelled against him and his silver tongue.

"I liked you, Mamouru," she said softly. "I really did. I knew... how you were, but I knew you, too. I knew you could be a good guy. But you NEVER EVEN TRIED!" She screamed, and twisted his arm again, putting terrible strain on his shoulder.

"If you didn't want to hurt me, then why did you do it, Mamouru? If you wanted to be a better guy, why couldn't you have just done it?" Her voice took on a broken, pleading quality, as if she could beg him to just change the way things had been, but she quickly regained her fire. "And... you didn't want me to go because you wanted to CONTROL me! STOP LYING and TELL ME THE TRUTH!"
"Stop it! Cassie-san Stop!" Mamouru cried. He began to struggle because the pain was becoming unbearable. "I'm not LYING, Cassie-san! I swear to you! You made me HAPPY! Why!? Why would I want to throw that away just so I could be miserable again!? I DID TRY!"

Mamouru's eyes fluttered as he panted. "Cassie-san.. please... please stop I did try.... I did my best... I didn't wrestle in those matches.... I stayed away from the clubs... I slipped up but... but I WAS trying... Please... stop... You're going to break my arm..." He muttered as new tears dripped down his cheeks.

Morrigan stood up and pocketed her taser and crept around the other scene until she was next to Taylor and Johnny, facing towards the house. "I'll need to borrow your handcuffs, again." She said, a smile twitching at the edge of her lips. "I'll bring them back tomorrow." Morrigan then pushed her glasses up her nose.

"I'll make sure everyone gets out safely. and, I'm sorry about how she acted..." She said the last part quietly and then stepped away and back into the house.
Last edited by 445 on Fri May 09, 2014 8:03 am; edited 1 time in total
Page 18 of 19 •

1 ... 10 ... 17, 18, 19


---
Permissions in this forum:
You
cannot
reply to topics in this forum