Champions & #1 contenders
Summer Splash interest in Natasha Loclear?
Mon Apr 09, 2018 11:30 pm by daemongirl
Well my girl hasn't missed a summer splash yet, would anyone be interested in a match with her? Open to just about anything match wise, just pm me!
Comments: 1
Been Out with the Flu
Sun Apr 22, 2018 7:47 pm by daemongirl
Just letting those I have threads with know I've been out with the flu since early last week, but I will be back to posting tomorrow.
Comments: 0
The Austrailian Mudslide is Back.
Sat Apr 21, 2018 6:20 am by Softsquad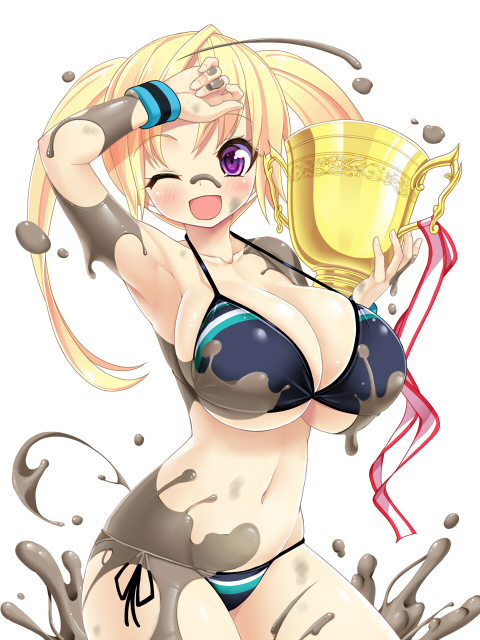 Granted that most of you won't know me or remember me, but I've had a few matches here and there some time ago. Well I think its time to become a regular around here and try to have some fun again, but at the same time keep coming back. Anyway I think its time to jump into some matches with Zoe Taylor, my mud wrestling character from Australia and get her back into the squared circle. Furthermore I will update my characters as I think some proper changes need to happen.
So if anyone would …
[
Full reading
]
Comments: 0
Page 2 of 19 •

1, 2, 3 ... 10 ... 19


Taylor put her hands on her hips and shook her head. She kissed Johnny back and sighed. "Yeah, I know. I just..."

Taylor and Cassie had both realized that Taylor wanted to protect her little Canadian cherub more than she should. Cassie wasn't just a little baby sister anymore, she was a grown woman with a successful competitive career in an extremely difficult organization. She had handled a problem the size of Dark Angel and come out better for it, and that was not to mention her near-undefeated eleven year history in jiu jitsu. Cassie could take care of herself.

But that didn't make Taylor's heart break for her any less when she got hurt, and no one, not even Talia "Dark Angel" Wilson, had hurt her like Mamouru.


Cassie stepped through the front door and slipped off her shoes, and bowed politely to Junko. From across the house she heard a sound, like a distant air raid siren, or more like an incoming fighter jet, and a moment later an airborne purple-and-black-and-blonde streak slammed bodily into Akashi.

"HI KASHI!" Taylor climbed nimbly around onto Akashi's back and held on just by squeezing her thighs, like she was riding bareback. She grabbed a ringlet curl in each hand and waved one of them at Cassie. "Hey, Bear!"

"Hi, Taylor." Cassie shifted awkwardly. She stepped on her toes with her other foot and patted her fingertips together. It took her a moment to figure out Junko's compliment, and when she did get it she was immediately bright red. "Th-thank you..." She said. "It's, um, it's nice to meet you too, Mrs Higurashi."

She didn't know what else to do, so she bowed again.

"MORGAN, WHAT THE FUCK? COME MEET CASSIE, YOU SKANK!" Taylor shouted from her perch on Akashi's back. She whipped the sumo's curls like reins. "Go, Kashi! FIND THE IRISHMAN!"
"Oh no no no!" Junko said, pulling Cassie into a hug and squeezing her affectionately. "We're practically family! You can definitely call me Junko! Or... or... Oba-chan! Fufu~" She said with sparkling, hopeful eyes as she pulled away from Cassie and ruffled her hair affectionately. "Taylor-chan's my daughter and I've heard how she and Akashi speak of you. You can think of me like an aunt. I'd love that." Junko said as she sighed dreamily. She felt like she was ten years younger, back with her own boys still growing into men. Her and her best friend getting together while their sets of twins romped around. It was almost too much.

Akashi squeezed Taylor with all her might and then relented so she could crawl upon her, supporting the lighter girl's weight and flipped around to watch Morrigan as Taylor bellowed to summon her the way Akashi had done for her. She didn't really move when Taylor whipped her like a horse though. She took a step forward and Morrigan appeared.

She stared at Taylor dryly. "I guess they're letting eight year olds buy houses now." She said and turned her head to look past all the people and focus on Cassie. "Hey." She said and then turned back to face Taylor. "I know who she is." Morrigan said. Lukretia liked Cassie and things liek that did not escape Morrigan when she was in Lukretia's tenure. Maybe she even liked her more than Taylor. Cassie was quiet, kept to herself, had a great work ethic and didn't come with all the baggage and insubordination that Taylor did. Lukretia respected professionalism even if she knew the red head was a bit naive. Maybe she liked that too.

Either way, Morrigan wasn't really interested in being a happy part of the family even if she didn't totally hate Taylor's stupid face anymore. "The basement is ready." She said to Taylor. "the others are already down there." The others being Johnny and Mamouru but she wasn't going to say one of the names out loud. "I'll pitch a tent here and show everyone the to the party until Lilith gets here."

"Lilith?" Akashi said, raising an eyebrow. Akashi didn't really like Morrigan or the idea that Taylor DID like Morrigan. Or trusted her or whatever weird relationship they had. But if Lilith was who she thought she was, Akashi was even MORE suspicious.

Morrigan turned her head away from Akashi, ignoring her. "Anyone want a drink?" She said, naturally easing from a role as personal assistant to one of servant. An easy transition for her.
"Only eight year olds who stack mad paper!" Taylor would not be shamed into maturity by Morgan's stick-in-the-mud-ness.

"Okay, um... oba-chan." Cassie said shyly, but with a genuine smile. "Oh, hi Morrigan! Er, Morgan. Er... I don't know [size=85:1s5erspr]which one to call you..." She trailed off as the Irish girl moved the conversation on without her.

Taylor just nodded to Akashi with a sympathetic look, but patted her palm downward to tell the sumo to be cool about it. "Well, hey, Morg, you're not on the clock or anything right now. I mean, you put in a lot of work for us on this thing, so just chill and enjoy it. You don't have to be like our m-" She narrowly stopped short of saying maid. "Uh, I just mean don't feel like you have to like, serve drinks or whatever. Come hang out in the basement if you want, pick the first movie or something, ya know. Whatever you want to do is cool, you're a guest like everyone else."

Cassie and Taylor exchanged a look, and while Taylor dragged Akashi off to the basement, Cassie spoke up.

"I'd love a drink. What do you have?" She said brightly, and skipped over to Morrigan. "It's nice to meet you in person, Taylor talks about you." She wrapped Morrigan up in a tight hug, and there wasn't a thing she could do about it. "You look a lot different in person!"
Last edited by 1167 on Sun Apr 13, 2014 6:43 am; edited 1 time in total
trotted off with Taylor in tow. "Watch your head, Imouto-chan!" Akashi said not stopping to let Taylor down as she chugged down the stairs.

"I'll have some sake." Junko said, giving Cassie one more pat on the shoulder before slipping away as well.

Morrigan just stared at Cassie, giving a nod to Junko. She didn't quite understand the words that Cassie was saying. "What?" She said as her body automatically slipped into the kitchen. "She does?" Other than 'Morgan's my bitch' what else was there to say? "Johnny has an assortment of juices. We have water, of course, club soda, beer and sake." She said and then tilted her head. "What did you THINK I looked like?" Morrigan said, narrowing her eyes suspiciously at Cassie as she pulled out the sake for Junko.

"And,call me Morgan. Taylor will just bitch if you call me the other name." She said, rolling her eyes. Morrigan then blushed a bit. "What... does she say?" Morrigan asked, grabbing a beer for herself and cracking it open. She offered one to Cassie. If she was off the clock, she might as well enjoy herself.
Cassie nodded happily. Of course Taylor talked about her! She talked about Morgan as much as she talked about Friction.

Taylor was having too much fun to notice the ceiling overhang over the stairs to the basement. Her head clonked against it and she fell all the way to the floor with a heavy thud. Cassie only spared a brief glance while Taylor helped herself back to her feet to follow after Akashi, giggling like a loon.

"Scarier," she said simply, without hesitation, and without losing her happy little smile. But Morgan wasn't scary at all in person! She could hardly believe she was the same as the one she'd seen doing... terrible things on TV.

"Wellllll..." Cassie said, looking off at the ceiling, and enjoying that she had Morrigan's attention. "She says you're really good at all the things she sucks at," she recited like it was a direct quote. "She talks about how people thought she was crazy when she hired you, and now who's crazy? And... Well..." She hesitated to bring up Taylor's fears about Morrigan turning on her once the opportunity came around. She didn't need to help make that a self-fulfilling prophecy.

"Something no one seems to know about Taylor is that she's a big softy. Like Akashi. She has a really big heart, and you should know it, because you're in it now. And that means she'd beat up anyone who looked at you funny," she said with a laugh.
"Good." Morrigan said as she casually took a deep sip from her beer, setting Cassie's down near her when she didn't respond. "Taylor sucks at a lot of things, you know?" Morrigan said, smiling. Sometimes she felt like she needed to dress the girl. She had practically done it tonight. "And she IS crazy." Morrigan said shaking her head. "And no one's going to look at ME funny if they know what's good for them. Morrigan said and patted her pocket and gave Cassie a look.

"It's funny." Morrigan said as she took another sip of her beer. "Taylor talks about you a lot as well. She's really proud of you and thinks you've grown up a lot and all that sappy bullshit, but... I don't really see it."

Morrigan stepped away from Cassie. "If you don't want the beer, take it downstairs. Someone will drink it. And when you go down there, tell them to watch The Last Boyscout. They aren't going to like the movie if I pick it." Morrigan flashed a smile back at Cassie. "I have to go steal her valuables and shit like that." She said as she slipped in the living room and hopped on the couch, reaching for the remote.
"She does!" Cassie laughed delightedly. "She even has trouble with the ticket machines in the subway!" Her smile quickly faded, but didn't completely disappear.

Then Morrigan kept talking. She frowned. How frustrating.

"So..." She said, glancing down at Morrigan's pocket and then looking her straight in the eye. "If you mean you have your stungun thingy, I'll take it from you." She showed not an ounce of hesitation or doubt, and if Morrigan doubted her there was only one way to fix that.

The moment passed, and she looked down at the beer. She didn't drink beer, but she hadn't actually told her what she wanted. She really wanted carrot juice! But she didn't want to be rude. She picked it up and took a step toward the basement, but paused when Morrigan didn't follow. "Aren't you going to come down? I hear the one in the basement is a lot better."
Morrigan narrowed her eyes. "While you're doing that..." Morrigan said in a low tone. She then closed her eyes and leaned back on the couch, propping her feet up on the coffee table. "It's the best. The one down there. It will blow your mind." She said grinning proudly.

"I'm waiting here until all the guests arrive. It's fine." She said, waving a hand at Cassie. "I'll have to run up here anyway. I don't like the movie you're watching and..." Morrigan paused. 'Well, it's hard to clock out even if Taylor says so." She said with a shrug. "It's your party anyway, not mine."
Cassie frowned. She knew that she needed to stand her ground when people were going to do bad things, because if she didn't, more people than just her could get hurt. But she just couldn't get over that feeling of lingering hostility in the air afterward. It bothered her so much she just had to hurry across the living room to Morrigan and give her another quick hug.

"If it's my party, I'm glad you're here. And... If it's my party, please be good. Not that I think you won't be, but... Please."

A slight pause, and then she turned and hurried off to the basement. "Morgan says The Last Boyscout!"
Morrigan patted Cassie back when she got the hug. These people were all so stupid. How did she ever get wrangled into being around a ll these idiots? Well, they'd probably like the movie, at least.

**********

Shinobu flipped his fingers through his hair as he eased in his chair. He'd brought with him some pretty upscale beer and he was just cracking open a fresh one and chatting with his friend Johnny and Johnny's friend Ro. A lovely American who was also in the Tension league. He'd arrived early, managing to clear his schedule, something he had almost found impossible. The latest Phantom Detective movie was just finishing preproduction and soon his time would be eaten away once again. He barely got to see his friend in the wrestling business and he still hadn't even had a match. Come Hell or high water he was going to spend the night with friends at a nice party no matter how much his agent hated him for it.

"So, I haven't really gotten to experience any of the scary stuff Johnny-kun has in the ring, but there's a lot of..." Shinobu paused and took a sip. "zealous... girls in my line of work as well. I mean, they aren't trying to keep me from having KIDS like Johnny-kun." He said, as he nodded to Ro, "I think it's more like, they want to HAVE my children!" Shinobu laughed.

"So, I guess the craziest story I have is when a fangirl managed to sneak into the closed set. To this day, I just can't figure out HOW she did it, but there's some really crazy people out there. You guys know, right?" I mean, This guy here was willing to eat a steel sandwich just to get a piece of you. And that dive off the ladder in his last match? Sheesh. Anyway, so this girl gets in the studio and she grabs one of the puppets. She drags it in front of all of us and threatens to destroy it."

Shiinobu leaned in and smiled. "it doesn't quite work that way. A lot of it's CG now. But she's holding this giant monster puppet hostage. Everyone's standing there looking at her mostly because of how crazy it is. She demands... get this, she demands that she's going to destroy the puppet if I don't have her children!"

Shinobu shook his head. Johnny laughed. "Everyone kind of laughed. Everyone but her thought that it was a big gag or something. I obviously didn't have her children, but I did take her on a date and gave her some autographed stuff. It was fun and she kind of got the picture... I hope. " Shinobu shrugged.

"Damn, dude. That's pretty messed up. You really went on a date with her though? What if she got extra crazy on you and junk?"

Shinobu shook his head. "I'm not that worried. I've got it under control. Does having to go up against crazy girls who just want to hurt you anyway possible keep you from taking the next match?" Shinobu nudged Johnny. "Besides, Johnny-kun. Your fan club is pretty big and I've seen some of the things that''s happened." Shinobu lowered his voice and eyed Johnny. "Pretty soon you're going to have more fans than me! I'll be asking YOU for advice on how to keep the ladies off me. But hey, at least you can HAVE friends who are girls." He said nodding to Ro and turning his attention to her. Johnny looked around, blushing a bit to see if Taylor was hovering around and then took a big sip of his beer when he saw she wasn't. He didn't think he'd ever be used to dealing with chicks no matter WHAT they wanted from him.

"So speaking of, I'm still technically in the league. I know that you'd probably rather wrestle Johnny, but if we ever get int he ring together, you're not going to kick my butt TOO badly, right?" Shinobu patted his cheek. "This is my bread and butter, I can't have it going and getting mangled up like Johnny-kun. He's already got a wife. I'm still prowling."
Last edited by 445 on Wed Apr 16, 2014 7:54 pm; edited 1 time in total
Page 2 of 19 •

1, 2, 3 ... 10 ... 19


---
Permissions in this forum:
You
cannot
reply to topics in this forum