Who is online?
In total there are
37
users online :: 10 Registered, 1 Hidden and 26 Guests :: 1 Bot
beangraff
,
Clyton
,
dragonswill
,
Mystery Dragon
,
Old_Man_Tai
,
RadiantKarna332
,
SleeperAgent94
,
Underdog21
,
Vcom7418
,
Yori
Most users ever online was
390
on Tue Jan 02, 2018 2:02 pm
Champions & #1 contenders
Looking for a debut (Tag Match)
Sun Jan 14, 2018 10:29 pm by Person
I am looking for a debut for my new tag team:
Rulers of Divinity
Something to build them up before I start their main feud.
Comments: 0
Trying to get back into the saddle.
Sat Jan 13, 2018 8:11 pm by Deus001
Hi all. Deus here.
You may have noticed I am a bit quiet on the forums these days. My parents split up, I split up with my girlfriend and moved house. I am moving house again in February as well. 2017 was one slow motion punch to the dick for me and my balls are still numb to be honest.
However now that I have some semblance of normality I felt why not see if anyone wants to talk RP ideas, I have a long work week ahead but a clear weekend it seems. If you have any ideas you want to do send me …
[
Full reading
]
Comments: 3
Post Delays after Winter Storm
Sat Jan 06, 2018 4:38 pm by BrittanyW
Cause the best thing after coming back from holiday is for a bomb cyclone to hit where you are. -_-
So yeah, expect more delays of posts and stuff while I have to sort out problems from this shit.
Fuck my life.

Comments: 1
Page 1 of 9 • 1, 2, 3, 4, 5, 6, 7, 8, 9

Match Type:
Hardcore
Victory Conditions:
Pinfall, Submission, or KO. Falls count anywhere.
It had been a few weeks since Barda last saw the ring, but she hadn't been idling around. She'd been a big, busy girl.
After her first loss against Adrian, a much, MUCH smaller foe, it was clear her experience needed some bulking up to match the rest of her body. Adrian herself had been a big help there - or, at least, her girlfriend, Rebecca had. Going up against someone like Rebecca Tomko, even in a spar, taught her a lot about handling her abilities in a fight - she wasn't sure if she was all the way to being in complete control of her power, but she had a better handle on it, now. More comfortable.
Which was right on time - she'd need that power now. Her second match was going to be hardcore.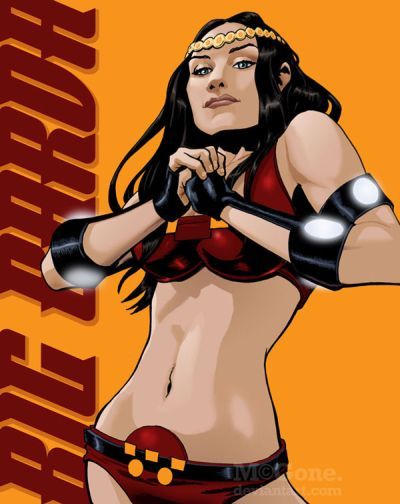 She made her way down to the ring in full getup, representing the DCU and her favorite character loud and proud. She hadn't been able to hear too much about her opponent, PhDoom, but from what she was able to surmise, she knew two things - Doom was a hard nut to crack, a tough heel, and she was a comic book fan. The second thing was actually a guess based on the name, but she was fairly certain she got the pun, and it wasn't something someone would take as a name unless they were a bit of a Marvel fan.
She slid on into the ring and waved to the audience, getting a few applause, here and there - she hadn't won her first match, but it had been a thrilling spectacle, and it seemed like she was getting a little respect, especially from the comic fans in Japan - she'd even had a little fun popping into one of the chat rooms and trying to convince them she really was an AFW wrestler.
Doom kept light on her heels in the gorilla position, waiting for her entrance music to come out on the loudspeakers. After her initial setback in joining the league, Doom was finally getting more bookings, and more shots at going out and taking out her mounting frustrations with the fans and the girls on the roster. She couldn't help but feel a bit excited, though; tonight, Doom was scheduled in for her first hardcore match. And while she'd only ever fought in a pro ring under pro rules, Doom couldn't help but feel a bit giddy, at the thought of giving someone her first beatdown with a folding chair ...
Hoodie pulled high, Doom exploded onto the entrance ramp, both hands immediately extending middle fingers to the crowd. As Doom made her way to the ring, absorbing the full brunt of their jeers, she kept her eyes fixed completely on her opponent. If Doom had any use for weaking emotions such as worry, she mused to herself, there was a chance she would have been feeling it, there. The woman was built like a brick house, and while Doom's lean physique was no slouch, she simply didn't have the frame that this girl was bringing to the table. Might take a couple of chairs, here, Doom decided, as she stepped through the ring ropes.
The other thing that stood out to Doom, she wasn't entirely sure of. The outfit ... She knew she recognized it, but she couldn't tell if the girl was actually cosplaying a superhero, or if it was just that this was how female wrestlers dressed. As Doom peeled off her jacket, flinging it into her ring corner, she smirked at Barda. "What ... on earth are you wearing?" she asked, condescension dripping from each word.
Barda just stood and watched as Doom made her entrance, looking back at her opponent all the way down - not exactly a crowd pleaser, this one was. It was actually kind of impressive, really; neith witer of their careers were that far along just yet, but Doom was already managing to get full-on heel-hate from the crowd. Not positive attention, sure, but attention nonetheless. Something has to be said for making an impression.

Slid in and asked her about the outfit - not a hello, not a wave, not even a real acknowledging look, just a smirk and a few words that seemed to practically ooze with superciliousness. Barda's first instinct was to ask Doom the same thing; Doom was wearing the most random looking outfit she'd ever seen. But she would keep it polite. Or try to.

"This?" She gave her strap a good pull. "It's a Big Barda costume, from, you know...DC Comics. They gave me permission to use the likeness."
Doom's mouth hung open, the corners of her lips curling into a wide grin. "My God," she scoffed, "my very first hardcore match, tonight and they sent Doom out here … to beat up a giant nerd? It is Wrestling Christmas, or something? Is it Doom's birthday?" Doom was shaking her head dismissively, but kept a close eye on Barda. She wanted to try and get a feel for the woman's reaction. She actually seemed to be playing this cosplay gimmick pretty straight, and Doom wanted to see how far she could burrow under her her larger opponent's skin, before things got serious.

Taking a few steps back, waiting for that opening bell, Doom bounced on her heels. She could work the crowd, it seemed, but now she had to wait and see if she'd be able to work this girl, too. "And besides, if you're going to dress up like a superhero, would it have killed you to pick a good one?"
Barda smirked. Then snickered. Then flat out laughed.

"Oh, my God, you're referring to yourself in the third person. That is just too cute." She was serious, too; she imagined all sorts of things would be the first to come out of Doom's mouth, but she was completely wrong on the POV for all of them. People in comics did that sort of thing all the time, but there was just something about hearing it out loud that was priceless; unless you were the Rock, it just sounds weird. Heck, Barda was honestly wishing she'd done it first.

...actually, why not?

"Barda is confused." She managed, after the giggles wore down. "Does Doom not know when her birthday? Barda knows hers. Has one every year. And Barda is curious - who would Doom dress up as? Perhaps a famous Marvel woman?" She started to circle Doom, closing in with each step. "Oh, wait - there aren't any. Maybe Doom can dress up as Jean Grey when she comes back for the 50th time."


She rolled her shoulders, stretching a bit and smiling. Hardcore match or not, the comic talk had her in a good mood. "Also, I'm - I mean, Barda is a geek, not a nerd. Big difference."
Last edited by 12547 on Thu Apr 10, 2014 9:06 pm; edited 3 times in total
Doom's grin of disdain immediately turned into a sneer of rage and irritation. "You dare," Doom said, her voice a bit choked, her face reddening, "attempt to mock Doom? Using Doom's own, dramatically appropriate speech patterns?" Doom was having a hard time getting an actual read on Barda, trying to gauge how serious she actually was. In the end, however, she disregarded it. None could be as serious as Doom! "Also," she added, [color=#008000]"Doom has no need to play 'dress up' with the nerds ..."

Doom kept her stance loose, as Barda closed in on her. "Doom' qutie comfortable with who Doom is," she said, waiting for Barda to close into distance just a bit more. "It's who you are that's so vexing!" Once Barda was within range, Doom would deliver a quick and hard snap kick directly to her opponent's midsection. She hoped the surprise would be enough to unbalance Barda, and put considerable strength into the blow. Hurriedly, the ref girl rushed to the corner, shaking her hand to signal for the opening bell. "Besides, you're going to talk to Doom about famous women, while dressed as a 'Fourth World' character? Plebian."
Last edited by 11683 on Fri Apr 11, 2014 2:18 pm; edited 1 time in total
"Geek, not nerd; there really is a distinct difference. And from the sound of things, Doom is a geek, too." Barda had to bite back another laugh - it was taking an honest-to-God effort not to just fall down laughing, at this point. She knew Doom was probably taking this seriously, knew this was supposed to be a match and not a comic book rap session, but for the life of her she just could not take Doom seriously.

Not before she got kicked in the stomach, anyway. After that, taking Doom seriously was considerably easier.

"You're just mad...ugh." Barda stumbled back, rubbing her stomach. "Doom is just mad that Kirby jumped ship from Marvel to make that. And it went for 59 issues, which is, like, three times longer than 99% of the female titles Marvel ever makes. Half the time they fizzle out before the one-year mark."

Putting her size to good use, Barda bounced back at Doom and came at her with a sloppier but bigger version of the kick she'd just been hit with, trying to plant her boot in the bitter brawler's chest. "By the way, how's the new Captain Marvel series coming? Do people care about her, yet?"
Last edited by 12547 on Fri Apr 11, 2014 3:16 pm; edited 2 times in total
Raising her arms, Doom was able to put up a block against Barda's kick, but that didn't mean the blow from the larger woman didn't hurt like hell. In fact, the leverage that Barda's size gave her, and the weight of the larger woman's leg, forced Doom to skid back on her heels a bit, as she struggled with keeping balance.

She grunted, with the effort, staring Barda down from behind her fists. She squared her jaw, and muttered, "'The Hunger Dogs' was an incomprehensible mess. Then, he went on to design He-Man toys. Doom means, really, come on ..."

Slowly, keeping her defensive position, Doom moved around the ring, keeping light on her feet. She opted to wait out Barda's next attack, while slowly trying to draw the larger woman closer to the ring ropes. It was a hardcore match, after all, and Doom was looking forward to getting to do a lot more, here, tonight, than re-enact message board slap fights.

"People with taste," Doom replied, to Barda's last comment. "Perhaps they'll reference her in that 'Ant-Man' movie. The one coming out years before a Wonder Woman one ever will ..."
Barda's foot slammed into Doom and sent her skidding back - but didn't knock her down, or even really stun her all that much. Barda could grudgingly admit to being impressed; if it wasn't for the size difference, the match might be going in a markedly different and more painful way. As it was, though, height was firmly on her side, and she planned to milk that for as long as she could.

Barda started back at her from her grappling pose, keeping it wide and open, a trap ready to close on Barda at a moment's notice. "What's wrong with He-Man? He-Man is awesome, the new series rocks. And can you really talk about designs? Remember the Sentry? Barda remembers the Sentry. It's a bird, it's a plane, it's Superman - only without everything that makes Superman likable! That's a solid idea for a character, right there. Stop letting Bendis do stuff when he's drunk."

Barda started to close in, when Doom stepped over the line. She just had to bring up that Wonder Woman movie, didn't she? Stupid red-tape. Lucy Lawless would have been perfect, but nooooooooo. They just had to sit on a good thing.

"You want to talk about movies?" Barda charged in, ducking down low and trying to clothesline Doom right over the top rope. "Okay, three words and three letters for you - Elektra, Jennifer Garner, WTF."
Last edited by 12547 on Fri Apr 11, 2014 3:40 pm; edited 3 times in total
Doom smirked, still trying to keep loose and fluid while she half-listened to Barda's ranting. Meanwhile, she was thinking about all of the implements of violence waiting for her outside the ring. She was looking forward to getting to use a kendo stick on someone, for the first time. Was Doom racist for assuming there would be a kendo stick under a Japanese ring? She might have to check her privilege, later. Also, she noted, the "privilege check" was an awesome name for a finisher …

Anyways! There were taunts happening, and Doom had to reply. "Ah, well, there's your problem, you find Superman likeable. Also, Doom is fairly certain Bendis is not actually Paul Jenkins. They might be different people, since one is named 'Bendis' and the other is spelled 'Jenkins.' Of course, no one expects a woman like Barda to be able to read things like words, when she looks like she does ..."

Doom still wouldn't close the distance on Barda, but she eyed her foe up and down. She was hoping at least one of her taunts would get under the bigger girl's skin, and give her an opening. If nothing happened soon, she mused, perhaps she could improvise. Listening to Barda, Doom had to give a half shrug, and mutter a quiet admittance that "Fox does indeed suck ..." She eyed the larger woman, giving a clearly disdainful glance, up and down Barda's molded physique. "And it's no shock that someone here likes something called 'He-Man,' eh? Fulfilled some of one's … more suppressed desires, perhaps?" Screw it, Doom decided. It was time to work blue. Shifting quickly from side to side, Doom grinned at Barda, hoping to provoke some sort of reaction.
Page 1 of 9 • 1, 2, 3, 4, 5, 6, 7, 8, 9


Similar topics
---
Permissions in this forum:
You
cannot
reply to topics in this forum