Champions & #1 contenders
Kawaii Opportunities
Sun Jun 17, 2018 3:04 pm by Daaharu
Hey, guys!
With the kawaii title match at Avalanche taking on an interesting wrinkle with the interruption by the Brat Pack, we are moving forward with the overall kawaii storyline, and at this point I'd just like to take stock of what kawaiis are out there that are interested in participating in a cohesive storyline.
Can't make any promises about titles or what exactly each girl's given role would be. We can talk a little more about the specifics of where the story is going soon, but I …
[
Full reading
]
Comments: 2
Match or RP?
Wed Jun 13, 2018 3:48 pm by Lotuswarrior
I'm just looking to do something while I wait for match replies. Really want to get some characters cemented a bit with a rival or some interactions with other characters here.
If anyone wants to do something hit me up.
Comments: 0
Match for Takeichi
Tue Jun 12, 2018 6:13 am by GrandAkumaShogun
So with my other two guys having their own matches I figure I should do something with my first character on here, Takeichi Mori. If anyone is interested feel free to post here or get in touch through a pm so we can plan it out. I can either have Takeichi remain a jobber or begin to work him towards being a more serious competitor.
Comments: 0
Page 1 of 6 • 1, 2, 3, 4, 5, 6


Match Type:
Hardcore
Victory Conditions:
Pinfall, KO, or Submission, Falls Count Anywhere
Stipulations:
No Disqualification
Back in action. Finally.
After a pretty shitty loss to Toshiko - one his sister would never let him live down - Army took it easy for a few weeks while he healed up from the match. A little rest and relaxation was what he really needed - put some things into perspective, re-imagine how he was approaching Tension, get into the swing of Japan a little more. He'd actually managed to master the language well enough that he could have a passable conversation with someone on the street, so long as things didn't get too heavy. And while he was far from scoring a date yet, his flirting skills were improving - there was this lovely little lady at the Kentucy Fried Chicken down the street he had his eye on.
Also, KFC in Japan. What the hell?
At any rate, it was time for him to step back in the ring - he asked for a match, and a match he got.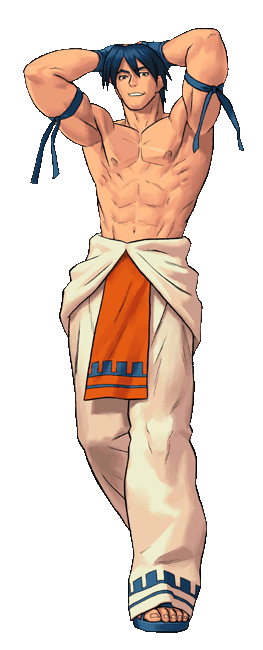 His [url=https://www.youtube.com/watch?v=l_cJ5fvVhiI:1wyt6mjf]music[/url:1wyt6mjf] started up as he and Carmen made their way to the ring, getting greeted by a lukewarm reception - people still didn't know what to think of the Rodriguez siblings just yet, but he felt they were on the right track to turning some heads. A lot of newbies fizzled out early, but both of them were going strong so far - just a matter of rolling with the momentum.
"I keep warning you." Carmen strutted behind him, a towel on her shoulder and a water bottle in her hand. "You should study your opponents before you come out here. Do you even know this chick's name?"
"No, don't need to." He spun her way, walking backwards down the ramp. "Armando Rodriguez loves a girl that surprises him."
"Armando Rodriguez is going to get knocked off his ass again if he doesn't start doing his homework." She shook her head. "Fights are won in the-"
"Fights are won in the gym, I know, I know." His eyes went into a barrel roll. "I was listening to some things our Dad said."
"Really? Could've fooled me."
He slid on in the and stood up, tightening his gloves as he looked back down to her. "Just relax. I got this. Wait and see."
Last edited by 12547 on Sun Apr 06, 2014 3:32 am; edited 1 time in total
Hawkeye strode out to the ring as she was called down, her [url=https://www.youtube.com/watch?v=rj-QLcJndg8:31f8ry2l]music[/url:31f8ry2l] playing to a neutral reaction from the fans. Like her opponent for the night, she was also new, with only one match on her record.

Dressed in a white tank top, black workout pants, and her old combat boots, the blonde made her way to the ring, eyeing the male opponent within.

"Hmm...not bad looking...the woman could be trouble though..."

She thought to herself, noticing that her opponent had brought a girl with him. Given that this was a hardcore match, and anything was allowed, there was literally nothing stopping that girl from interfering with the match at literally anytime she wanted. She would have to keep an eye out for her at all times it seemed.

Getting in the ring, Hawkeye started doing some light stretches while looking at the guy across the ring.

"Hey there. I'm Hawkeye. Your that...boxer guy right? I think I heard you were in a match recently..."
Oh, power metal. Army liked. Whoever this was, her taste in music wasn't half-bad.

He watched the girl as she came in the ring, eyeing her as she eyed him - very nice. She looked fairly tough, if a bit small - he had at least a 100 pounds on her, and about, say...seven, maybe eight inches. Definitely below his weight class, but he had to admire a girl who had the balls to get in the ring with that big of a difference. From what he'd heard, a lot of the girls got by on their looks, sex appeal, but that didn't seem to be the case with her; she was hot, sure, but she was dressed to fight, nothing too skimpy. Maybe even a little dangerous, if those boots had steel toes. Good, because he had no intention of holding back. Not this time.

"Yup, yup, word's spreading around." He did a little shadow boxing, showing off and limbering up. "Armando Rodriguez, call me Army. Got off to a little bit of a rough start, but I'm making up for lost time. What about you? First timer?"
Hawkeye watched "Army" carefully as he got himself ready, she had a serious disadvantage in height and weight, and she was betting he had some brutal striking abilities too.

"Kinda, had a match with the Tension Champ as my debut. It was a pretty good match, though I forget who won, I just know we both hurt after.

She made sure her hair was well tied, not wanting to risk having it fall in her face.

"This is my second match though, so sounds like we're in the same boat...what about her though? I don't have to worry about that girl taking advantage of a lack of rules and attacking me do I?"

She asked warily, getting her arms up as the referee asked if they were ready.
He raised an eyebrow. Carmen raised an eyebrow. Lots of raised eyebrows going on.

"They let you fight the Champ in your first match?" He scratched his head - who did he have to fuck to get a deal like that? "Shit, even Rocky Balboa had some fights before he fought Creed. Lucky."

Carmen overhead them talking and straightened up, snapping Hawkeye's way to get her attention. "I'm his sister, and don't worry. As long as you don't try to kill him or do something batshit crazy like that, I'm staying out here. I beat him up all the time, might as well share the fun. He's nowhere near as tough as he likes to think." She leaned forward on the ring apron, smiling her way. "Oh, and his left side's still a little tender from the last fight, if you're looking for sweet spots. Friendly advice."

Army ran his hands over his face, trying hard to keep the smile up. "That it? Gonna give her any more help? Maybe tell her what kind of underwear I'm wearing, my favorite punch, stuff like that?"

"Nope, think I'm good." She gave a quick wave as the referee signaled for the match to start and the bell rang. "You two kids have fun, now."
Last edited by 12547 on Sun Apr 06, 2014 1:05 pm; edited 1 time in total
"Heh, left side huh? Fun. Though I don't need to know about his undies....though I suppose I could find out myself...But still, pleasantries second, beating each other half to death first."

The bell rang, signaling for the match to start, Hawkeye coming out of her corner, arms up, circling and sidestepping around Army as he got closer.

"Your sister huh? Seems nice...you haven't knocked her out before, have you?"

She asked, keeping the banter going as she looked for an opening.
"I can show you mine later, if you're interested." Carmen gave her a little wink, before backing off.

Army moved in as the bell rang, closing the distance - but not too far. He had the range advantage and he intended to use it, especially now that Hawkeye knew about his little Achille's Heel - or rib, as it turned out. She was small, but confident, and he knew from experience that could make up for a lot of things.

"Not exactly, no." He threw out a couple of jabs, trying to keep her at a distance. "Just a matter of time, though."
"Hmph...I might be..."

Hawkeye replied while circling Army, keeping her distance as he tossed the jabs.

"So why the name Army? Reminds me of when I served..."

She quipped, sending out a light kick towards his legs when he got too close.
This was a little weird, having a light conversation in a hard fight. Army was used to talking in a brawl, sure, but usually it was just trash. To hear them talk, you'd have thought they were having a tea party.

The kick gave him some pause, forced him back a step - still weird getting used to looking out for attacks with the other two limbs, but not something he couldn't get around with a little effort. "Short for Armando. Real name sounds too much like a porn star, these days. Which I kind of am, in a way these days."

He took a quick step forward then back off, trying to bait her into shooting out a kick, hoping the opponening would leave her open long enough for to charge in with a right hook to her face, so he could start dictating the match's flow.
Hawkeye quickly moved in as Army moved back, aiming a hard kick towards his leg...only to take a hard hook to her face, taking her off balance and leaving her open for a couple seconds, before she could shake it off and get her arms up again.

"Gah!"
Page 1 of 6 • 1, 2, 3, 4, 5, 6



Similar topics
---
Permissions in this forum:
You
cannot
reply to topics in this forum