Champions & #1 contenders
The Austrailian Mudslide is Back.
Sat Apr 21, 2018 6:20 am by Softsquad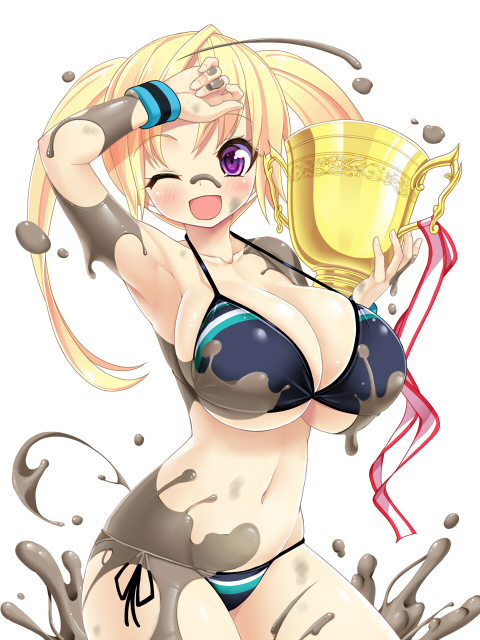 Granted that most of you won't know me or remember me, but I've had a few matches here and there some time ago. Well I think its time to become a regular around here and try to have some fun again, but at the same time keep coming back. Anyway I think its time to jump into some matches with Zoe Taylor, my mud wrestling character from Australia and get her back into the squared circle. Furthermore I will update my characters as I think some proper changes need to happen.
So if anyone would …
[
Full reading
]
Comments: 4
Looking for debut thread.
Sat May 12, 2018 9:28 pm by Hedgehawk
Hello All.
I am looking for a debut for my girl Trinity (http://www.afwrpg.com/t18107-trinity-cordova#495678).
This doesn't have to be a match, it could be a gym battle, interview or anything else. I just want something to help get Trinity off the ground. If you wanna plot feel free to reply to this message or fire me a PM.
Many thanks in advance and thank you for reading my message,
Hedge
Comments: 0
Page 1 of 4 • 1, 2, 3, 4


Jamie Valentine cautiously looked each way up the sidewalk. She timidly followed behind her new best friends into the bar. She suspiciously eyed the other patrons inside. She was awestruck as she gazed at the dimly lit, well weathered decorum, the long oak bar with all the glass bottles behind it, the little accent lights here and there. There was decidedly less neon than she always imagined there would be. She thought a bar would be full of neon signs that flashed back and forth between a woman smiling and winking while leaning against a giant beer bottle, but there was none of that.

She kept her hands clasped together and her arms pressed against her side, and girlishly hurried to catch up with Lucky and Mackie. She didn't want to let on that she was a complete newbie, so she hurried past them and up to the bar where a less-than-welcoming bartender stared down at her.

"Um... hi!" She said. That sounded casual, right? She tried leaning one elbow on the bar, which was a little high up for her. "Gimme a beer." The bartender replied in Japanese, and Jamie resisted the urge to look to her new friends for help. She could feel sweat beading on her forehead as her face flushed warmly.

Think, Jamie!

Oh! ID!

She quickly reached into her satchel bag and pulled out a rubber-banded mass of assorted cards, most of them useless, and fished out her identification. She started to hand it to the bartender when the name at the top of the card tripped something in her brain, and she froze. It didn't say "Jamie Valentine" at the top. It said "Eve O'Connor". Her real name.

No one knew her real name!

She quickly put it away, but it was too late. Everyone had seen her do it. "Eheh..." She laughed nervously and scratched the back of her neck, and while acting intensely casual she looked over at the other two women.
Macky and Lucky walked casually down the sidewalk that led them to their favorite little dive bar. A place where they could be themselves without having to worry about people knowing who they were or caring if they did. The two looked like an old fashioned couple tagging along their impetuous and rebellous child to some place she didn't want to be. Macky was dressed in black slacks and a dress shirt. She was wearing suspenders and a fedora and had her coat slung over one shoulder.

Lucky was in a light blue sundress that came just past her knees. She had some nude stockings and a pair of darker blue penny loafers to complement her outfit. A large purse hung on one side of her arm. Her blue bangs were pinned tot he side of her head with barrets. She was quite a contrast to Macky.

The trio made their way to the bar and Macky watched as Jamie ordered a drink like she was a minor trying to sneak her first sip of suds. Macky laughed, looking at the ID and slapping her back. "Ha Ha Ha! No need to use a fake ID 'round here, kid! I told ya, You're legal!"

lucky scrutinized the ID a bit further and pressed a finger to her lips. "Hmm." She said thoughtfully but said nothing.

"Oi! Give my friend the tallest pint you got! This is her first beer she'd havin as an adult! Aww, hell! Bring her a shot of sake too! We're here to get ripped off our asses! Ha Ha ha!" Macky bellowed. "Bring me a shot of sake with my usual!" She said. "But make it a double!" Macky smiled at Jamie and gave her a friendly punch in the arm. "Ha ha Ha!"

"Macky-san." Lucky said , shaking her head a bit. "I'm sure Jamie-san wants to enjoy herself, not spend all night in the bathroom.[/i]." Macky just laughed. Lucky sighed and gave Jamie a friendly pat."Just drink it slow. If she sees you still have some left, she won't keep making you drink more. ... probably..."

Lucky looked at the bartender and smiled. "I'll have a shot of sake as well." She said. "And a Doctor Schlager, of course." She said smiling.

Macky wrinkled her brow. "You don't even like that stuff." She said shaking her head.

Lucky blushed. "I... I like the Goldschlager! I'm ... still getting used to the Dr. Pepper..."

"A-Anyway!" She said as the bartender left to fill their order. "When he gets back, we'll have a toast, Jamie-san! Think about what you'd like to drink to!" She said in a friendly manner.

Macky slapped Jamie's back again. "How about, kickin ass and takin names!" She offered. "Ha Ha Ha! A classic!"
Jamie was captivated by the bartender's expert hands as he began to mix the drinks, and she almost missed it when Lucky spoke to her. "O-oh, um..." She stopped her from toasting to her new best friends. "Yeah, to that! To me doing it!" She grinned. "I bet you didn't think I could do it when you first saw me, too, but I'm actually incredibly smart. I can't wait to plan out my next match!"

She watched as the bartender brought each drink back and lined them up on the bar. She looked from the dark amber glasses of foamy beer to Lucky's fizzy drink with the funny name, to the little clear shot glasses in between them. She was at once exhilarated and terrified by the prospect of drinking, and even getting drunk. What was that like? Was it safe? She unconsciously patted the little plastic Batman in her satchel.

"Okay, um..." she started to reach for something, with her elbows still pressed to her sides and her toes bashfully turned in. "Which one is mine? Is there a trick to it?"
"Well, no..." Lucky said, turning her head. "You did do quite well, even if you had to cheat." Lucky gave her a smile and a gentle nudge. "You DID scream a submission though. If it was falls count anywhere, you would have lost." She added. "But." Lucky said lowering her head. "I'm not going to have sour grapes over it. You did good."

When the drinks came and Jamie stared at them, Macky laughed and slapped Jamie on the back. "Ha Ha Ha! It's nothing magical!" She bellowed. She took her drink, Scotch on the rocks and grabbed it. She then took her shot and set it next to her. She grabbed Jamie's frothy mug and set it down in front of her. "Yours." She said. "But wait." She grabbed the shot of sake and set it in front of Jamie's mug o beer. "Also yours."

Lucky grabbed her own drinks and then raised her sake glass in front of Jamie. "A toast." She said. "Touch glasses and then down it in one go." She instructed the blonde. "To fun, fighting and friendship." She said and raised her glass.

"Damn right!" Macky said and clinked glasses with Lucky, looking expectantly at Jamie for her to follow. Both girls would then throw back the shot of sake in one big gulp.
"Pffffffff, that was all part of the plan." Not really. Jamie thought she was going to die with Lucky attached to her ankle.

"Oh," she looked at the intimidating mug of beer and the smaller, friendlier glass in front of it. "So this one first?" She figured the little one was like an appetizer to get you ready for the big one. That was a good thing, because the appetizers were always the best part anyway. Mozzarella sticks and stuff.

"Yeah!" She picked up the little glass and watched to see what Lucky and Mackie did. She raised it to her lips to sip it, but Mackie and Lucky just threw it right back, so she did the same, and immediately regretted it.

She coughed, violently, and made a face and fell off her stool. She ended up draped over it on her stomach gulping air like a fish while the sake consumed her insides. "Ohhh maiiii gawwwwwd!" She gasped, and pulled herself upright again, her face flushed and her eyes watery. She felt funny. "Is the other one even worse?"
Macky and Lucky watched as Jamie downed the shot like a champ and then collapsed to the ground like a rookie. Macky laughed her ass off, slapping Jamie's back while she watched the blonde nearly die. Lucky offered only a stifled chuckle and and cleared her throat, turning away when Jamie began speaking, blush coming over her face.

"Whatdya mean, worse!?" Macky said pushing the cold brew towards Jamie. "It's beer. It's the tamest thing there is." Macky didn't really understand. She took her glass of scotch and sipped it nice and slow. "Ahhhh!" She said and grinned at Jamie. "You still chug beer though. This here's good enough to savor." She said swishing her glass in front of her.

"You can do it, Jamie-san!" Lucky said encouraging her. She took a medium sized sip from her Doctor Schlager and nodded to Jamie for encouragement. "Banzai!"
Last edited by 445 on Tue Mar 25, 2014 5:43 am; edited 1 time in total
When Jamie eventually regained her composure, there was the faintest bit of sweat on her forehead. Her stomach and her throat felt warm and a little burny, and her head felt a little funny. She rubbed her eyes and looked at Mackie's drink. "But mine's way bigger, that's not fair!"

She nodded at Lucky, and then narrowed her eyes at the pint of beer. How bad could it be? People drank this stuff all the time! Like the college kids in Boston who staggered around and got hit by cars and looked at her with weird eyes. Jamie was way too smart to just let some stupid beer beat her. If there was a trick to it, she'd figure it out!

She grabbed the glass with both hands and went nose-deep in the foam on top while she began drinking it as fast as she could. The taste was awful. It was bitter and a little burny and tasted like cigarette butts that had been soaking in vinegar, but she didn't let that stop her! Spurred on by Lucky's encouragement, she drank and drank, until she took a breath the wrong way and sucked some foam up her nose.

She coughed and splashed beer on herself before she could set the glass down. Again, she wilted over the stool, laying face down while she coughed.

"IT TASTES SOOO BAAAAD!" She wailed. "B-but I'll get it all!"
Macky watched as Jamie chugged. She laughed heartily and pumped a fist in the air. "Ha Ha Ha! look at her go! Just like a real champ! Ha Ha Ha!" Macky said and continued to cheer Jamie on.

Lucky clapped diligently and also cheered Jamie on less vocally. 'You're doing great, Jamie-san!" She said, grinning at the blonde.

Once again, Jamie was defeated but it looked like she had taken down most of the beer. Macky slapped Jamie's back and gave it a hearty and encouraging rub. "Ya did pretty great for a rookie! Ha Ha Ha!" She said. "Mine's smaller because mine packs a bigger punch. You only need a little. I could drink beer all day and not get drunk!"

Lucky chuckled. "That's her way of saying she's a lush, Jamie-san. You did quite good. Here..." She said and called the bartender over. "I'll order you something you'll actually enjoy the taste of. You don't have to act tough for either of us. We just want you to enjoy yourself." Lucky looked up at the bar tender. "One fuzzy navel, please!" She chirped. Lucky then took another sip from her Doctor Schlager as the bar tender began to make the drink.

"Well, what do you think so far, Jamie-san?" Lucky asked encouraging her.

"Yeah! Feels good, don't it!?" Macky added.
Last edited by 445 on Tue Mar 25, 2014 6:47 am; edited 1 time in total
"Another one?" Jamie gasped, and dramatically collapsed on the bar, until the drink came. She peeked at it with her chin still on the bar. It was orange.

"Eh?" She sniffed it. "Oh! It's orange juice!" She perked back up and grabbed the glass and drank half of it easily. "Orange juice is my favorite," she slurred happily with a half-shy smile. "Iss way better than the other ones. I don't think I really feel different I dunno I just like being... um... I forgot?" She giggled nervously and drank some more orange juice, and, unbeknownst to her, schnapps.
Last edited by 1167 on Wed Mar 26, 2014 4:31 am; edited 1 time in total
"Shit!" Macky said as Jamie guzzled down the fuzzy navel. "Ha Ha ha!" She laughed. "Look at her! She's gonna make us look bad with how fast she sucked that down! Ha ha Ha!"

"Oh!" Lucky said and took a big drink from her Doctor Schlager. "I knew we'd find something you would like eventually! Keep them coming, please." She said to the bar tender, motioning to her own drink. Macky was still coolly sipping her first drink. "So, you really don't feel any different, Jamie-san?" Lucky asked. "I know I feel pretty good when I get buzzed. You've already drank a lot and it's your first time. Aren't you even feeling it a little?"
Page 1 of 4 • 1, 2, 3, 4


---
Permissions in this forum:
You
cannot
reply to topics in this forum