Champions & #1 contenders
Highfly Flying Out Of Town
Tue May 22, 2018 1:31 am by HighFly
Hello everyone, I just wanted to inform all I have threads with that I will be gone from this coming Wednesday through Sunday. I won't be able to post consistently if at all during this time, but I will try to make up for it next week! I am sorry for the inconvenience to everyone.
Comments: 7
The Austrailian Mudslide is Back.
Sat Apr 21, 2018 6:20 am by Softsquad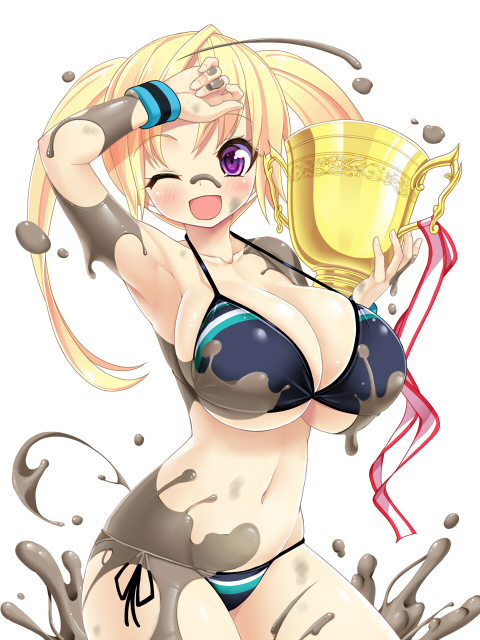 Granted that most of you won't know me or remember me, but I've had a few matches here and there some time ago. Well I think its time to become a regular around here and try to have some fun again, but at the same time keep coming back. Anyway I think its time to jump into some matches with Zoe Taylor, my mud wrestling character from Australia and get her back into the squared circle. Furthermore I will update my characters as I think some proper changes need to happen.
So if anyone would …
[
Full reading
]
Comments: 5
Page 4 of 6 •

1, 2, 3, 4, 5, 6


Gradually rising up with her hands to her sides, Bunny stole a glimpse further down the hall at Kumi, who had by now nearly recovered from the earlier fight. The futility of it all was never more apparent than when she saw the tattooed lady standing there. Even if she did make a come back against Kuro, she would be easy prey for Kumi as she had nearly nothing left to give after everything she'd been through.

"...really dunno how this k'get any worse for me...", Bunny said with a smirk while turning to face Kuro, her arms limp at her sides. Seeing Kuro back up to get some running space, Bunny knew that any speed move from that distance was the end for her. She didn't have the reflex right now to dodge or know where to block. She knew she couldn't win this but she still had one more point left to make. So....if she couldn't defend herself, she only had one real option.

Seeing Kuro sprint towards her would signal her own dash some time after. Seeing Kuro kick off the locker like that made D.B. gasp in surprise at her agility, but on instinct she already knew how to counter it. With her last ounce of adrenaline running through her veins, Bunny will attempt to grab Kuro In mid air around her waist and flip her overhead. If her trajectory stays on course Kuro should crash land on her lower back/butt right in front of the tattooed spectator. Still laying on her own back after the high-flying counter, D.B. would giggle slightly outside of her heavy panting...
Last edited by 11497 on Sat Mar 29, 2014 6:07 pm; edited 2 times in total
Kuro surely didn't see it coming. She was sure that one kick should finish Death Bunny, but the girl apparently still had the strength to catch her midair and flipped her over! The raven haired girl landed hard on her back, her figure bounced slightly before flopping to the floor where she writhed around. That hurt alright.

"Kuro...!" Kumi yelled as she watched in horror how her sworn sister crashed to the floor.

She immediately rushed to Kuro's side to check her out. Her sworn sister was groaning in pain, grimacing as one hand rubbed her back. Glancing at Death Bunny across her, Kumi's eyes flared in anger, although she remained still to make sure Kuro was alright. The raven haired girl was tough, but a wrong landing in a place like this could cause a serious injury.

"I'm fine... uhhh..." Kuro said weakly with a dismissive wave from her hand. "I think..."

"You fucking bitch!" Kumi instantly dashed towards the bunny girl, irked by her target's giggling. "I'll make you pay!"

Without wasting any time, the tattooed girl would attempt to haul Death Bunny up and turned the girl over, so she could smack her face as hard as she could, hoping to send her target crashing onto the locker behind her.
Smiling while looking up at the ceiling lights, Bunny couldnâ€
t believe her luck at having pulled that move off. But more than that, after hearing Kumis concern for her friend, she thought that maybe her point had been made….and that she could finally stop fighting.
Gritting her teeth as Kumi yanked her up the hair, the slap to her face whiplashed her neck and sent her tumbling to the locker behind her. Groaning from the fresh red welt on her face, Bunny would turn around to slouch against the locker with her hands hanging limply at her side, attempting to address the tattooed lady seething with anger.
"Ungh….N-now…..now you know too…..that feeling.....could you've jus stood an watched?". Way back when Kuro first interfered, Bunny realized that while she may not be able to walk away from this no matter how this turned out, she could at least try to give them a first hand account on what had happened, hoping to garner sympathy from her attackers. Even if it meant playing the role of Lady Phantom…
"You're hate for me.....was mine for Phantom...."
Kumi sighed after she smacked Bunny hard, and went to grab the girl's shoulders before she heard what her target said. While she admitted that she didn't really care about what happened between DB and phantom, the bunny girl did have a point. Unfortunately, she already accepted the job and couldn't really sympathize too much with her target.

"Unfortunately, business is business..." she stared into Death Bunny's eyes with a maintained resolution on her face. "Perhaps next time..." she added as one of her arms drawn back, ready to deliver the finishing blow to DB when someone arrived at the scene, much to both Kumi and Kuro's surprise.

"Splendid work, my darlings~" Lady Phantom appeared in her sultry attire, clapping her hands in satisfaction at the sight in front of her.

It's not hard to notice that the silver haired girl was delighted even with her mask on. Kumi noticed that Lady Phantom was carrying a small bag with her, although she couldn't see the content. Was she going to finish the job herself?

"You...?" Kumi halted her strike while still pinning Bunny to the locker with one hand. "What are you doing here?"

"Observing your work, of course," said the masked girl casually. "And to greet our little bunny myself, because it's only polite to do so."

"Really polite," Kuro muttered as she began to pick herself up, still rubbing her back.
Kumiâ€
s tight grip on D.B.â€
s weary shoulders pinning her against the locker were the only thing keeping the downtrodden bunny from sinking to the floor. Sweat dripping from her forehead as her half-open eyes stared back into Kumiâ€
s, she could tell in her hesitation that she may have gotten through to the tattooed lady and proved her point. When someone you care about is in danger, all the noise in the world dissipates and instinct takes control, consequences be damned. However the ladies were professional if not anything, Bunny squinting in reaction to Kumi ready to deliver the K.O…
*Th-that voice….* Opening her eyes and looking to the side would confirm her fears as Lady Phantom sauntered onto the scene well after all the action had taken place. She had obviously been watching in delight as her hit-women did a number on Bunny, waiting for her to be nearly defenseless before revealing herself. Her heartbeat sped up as she heard Phantom and also noticed her small and conspicuous bag. *Oh….so this is how things could worse for me….*
The idea of what might be coming ignited smolders of resistance still lit in Bunny, who weakly pressed her hands against the locker in an attempt to push herself up to her feet, where before she was still slouching forward. "…Ph-Phantom….well donâ€
t I feel popular…."
"You should be honored..." Lady Phantom said sarcastically as she walked closer to the girls. "Normally I only hire some help if I feel that someone's a worthy target... Hold her up, girls, and take that thing off..." she pointed to the brass knuckle on Death Bunny's hand.

Despite still feeling a little dizzy after being slammed to the floor, Kuro would help Kumi holding the bunny girl against the locker, and took the brass knuckle off DB's hand. She observed it for a bit, before giving the girl a dry smirk.

"This would make a nice souvenir..." she said to no one in particular before slipping the knuckle to her pocket.

"On a second thought, I have a better idea..." Lady Phantom said before she pointed to the nearby bench. "Put her there, strip her pants and tie her legs on her arms... with this," she ordered before taking out a rope from her bag and tossed it to Kumi.

"You heard her," the tattooed girl said to Bunny with a grim look. "But just in case..." she added before delivering a knee to DB's stomach.
Last edited by 10553 on Tue Apr 01, 2014 5:56 pm; edited 3 times in total
Every word that came out of Phantoms mouth only made Bunny want to strangle her even more, actually trying to make her feel privileged that Phantom had to order outside help to do her dirty work. This detestable woman had orchestrated this entire assault perfectly, leaving Bunny alone, exhausted, outnumbered and entirely helpless against whatever Phantom had planned next.
Gritting her teeth in anger as she glared into Phantoms eyes, her attempt to stand up again was halted when Kuro pressed her arm against Bunnys shoulder and pinned her back to the locker. Her slack arms made it easy for Kuro to pilfer her brass knuckles, not that they would do Bunny much good now, not knowing if she even had the energy to throw a decent punch. "Donâ€
t think Iâ€
m not gonna want those back…..besides, that bruise on your face should be enough of a souvenirâ€
â€
, Bunny quipped referring to the punch she had layed on her earlier, fully aware that she had more than enough "souvenirs" of her own.
Hearing Phantoms plans for her did cause to start panicking, struggling in vain against her captors to break free. "D-donâ€
t you dar-….", Bunny would be left breathless at Kumis knee strike, her eyes widened and mouth opening gasping for air. She would fall to her knees bent over with her arms around her stomach, if she was allowed to…
Kumi sighed after she struck Bunny's stomach with her knee, feeling less upset with the girl who slammed her sworn sister to the floor. With her target weakened, she glanced at Kuro, who nodded in understanding before they started to drag the bunny girl to the bench and lay DB on her back as ordered.

"A bruise will disappear after a while... while I can always use your little toy again and again..." Kuro smirked as she began to strip the pants of Death Bunny while Kumi holding the girl.

Once the pants was off, the black haired girl would fold DB in half so her sworn sister could start tying the girl's legs to her arms. Kumi felt like she could guess what Lady Phantom wanted by putting the bunny girl into this position, and she couldn't help but to smirk as well at her imagination.

Meanwhile, Lady Phantom was just watching from the sideline with a big grin on her face. Now that she had Bunny in a helpless state, she's going to have the fun she couldn't have with Maki on this girl instead. That would teach the bitch a lesson not to mess with her.

"It's done," Kumi said as she tightened the knot to make sure Death Bunny was secured to the bench.

"Good," the masked girl replied before she dropped her bag to the floor to take out something from it.

A big dildo.
The tips of Bunnyâ€
s leather boots would skip across the floor as her two attackers lugged her lifeless body to the nearest bench and laid her back flat against it with her limbs hanging off the sides. All forms of resistance having been beaten out of her, Bunny would barely moan out loud as her denim hot pants were finally removed by Kuro. Slightly shivering from the fresh, air-conditioned breeze on her nether regions, her cute light purple panties with black straps around the waist and legs would be on full display, along with a small wet spot that had formed from Kumis earlier fondling.
The feeling of rope on her arms and legs roused Bunny back to life, lifting her head up slowly to see the compromising situation she was in. Bunny hit the back of her head against the bench as she shut her eyes and gritted her teeth, just as angry with herself as she was with Lady Phantom for allowing herself to be put in this absolutely mortifying position. After a match, 2 against 1, these were nothing but excuses, she should have known better, fought harder,…..something. Her growing disdain for her own weakness took a backseat when she noticed the disturbing object Phantom had in her hand. Eyes widened in shock, Bunnys face would glow a bright red as she witnessed the phallic sex toy.
"D-damn you"!!! Squirming weakly against her restraints would get her nowhere, still in utter disbelief as to what this wretched woman was going to do to her, and that she really couldn't do anything to stop it…
"Now, now..." Lady Phantom sneered as she approached the tied girl while waving the dildo threateningly. "That was uncalled for... I'm sure you're still frustrated from the match since you didn't get to cum... You should have thanked me instead of cursing, you know," she laughed.

The masked girl wasn't about to start right away, however. she revealed a small button on the toy's base, and pushed it to make the dildo vibrate, a gentle buzz, a medium paced buzz, and a strong one. She turned it off and began to circle the metal tip of the toy around Bunny's womanhood, drawing circles from big to small in order to tease her victim as long as possible.

"Next time you want to save a friend... think that there are people you don't want to mess with..." Lady Phantom chided as she poked the dildo on Bunny's sex without really inserting it. "You took away my fun back then... so I'll just have to play with you instead..."

She would make sure to make the bunny girl's resistance softened before she jammed it in, wanting to see the stoic Death Bunny on the edge of insanity from being teased over and over again. Oh yes, revenge is a bitch. Bunny could only blame herself for messing with her.

"If you beg, I might consider making this a quick one, dear~"
Page 4 of 6 •

1, 2, 3, 4, 5, 6


---
Permissions in this forum:
You
cannot
reply to topics in this forum