Champions & #1 contenders
Highfly Flying Out Of Town
Tue May 22, 2018 1:31 am by HighFly
Hello everyone, I just wanted to inform all I have threads with that I will be gone from this coming Wednesday through Sunday. I won't be able to post consistently if at all during this time, but I will try to make up for it next week! I am sorry for the inconvenience to everyone.
Comments: 7
The Austrailian Mudslide is Back.
Sat Apr 21, 2018 6:20 am by Softsquad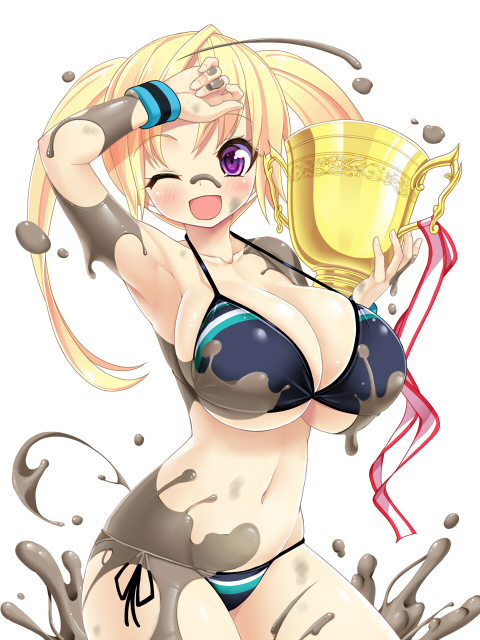 Granted that most of you won't know me or remember me, but I've had a few matches here and there some time ago. Well I think its time to become a regular around here and try to have some fun again, but at the same time keep coming back. Anyway I think its time to jump into some matches with Zoe Taylor, my mud wrestling character from Australia and get her back into the squared circle. Furthermore I will update my characters as I think some proper changes need to happen.
So if anyone would …
[
Full reading
]
Comments: 5
Page 1 of 6 • 1, 2, 3, 4, 5, 6


The sounds of a lone locker opening would be the only noise heard in the cavernous AFW backstage. Most other wrestlers had long since emptied the arena as Bunny had stayed behind to hash out the details with Blossom after accompanying her to the locker room. The haunting atmosphere was actually an extremely comforting scenario for the solitary wrestler still shuffling in front of her locker…
*grumble* Youâ€
d think Death Bunny had lost her hentai match with Blossom Fields by the way she was jamming her stuff into her tote bag violently. *grumble* However Blossom would win the war despite losing the battle as the consequences of their match were stacked against Bunny since the beginning, no matter who was victorious. Bunny won, Blossom slept over at her place. Blossom won, vice versa. *grumble* The idea of spending more time, an entire NIGHT, with the hyperactive nymph......
"…..Hmm…..maybe I can skip town for a bit, a month may work….." Bunnyâ€
s match was close to last on the docket, so she hung out later than usual to try and have the showers all to herself for once. All that close contact from her match still lingered in her mind and she needed a longer than average shower to settle down, but in all honesty her body still had those feelings.Way in the back of her head, a small part of her almost wished she lost-
*GAH!!!* DB shook her head violently to free herself of that embarrassing thought, her first hentai match was an experience she wouldn't soon forget....no matter how hard she tried. Finishing packing her bag and slinging it over her shoulder, Bunny would start on her way. The warm weather accommodated her usual hot pants and white tank top ensemble, her trench coat slung over her other shoulder as she marched down rows of lockers towards the parking lot where her motorcycle waited or her.
Unknown to DB, she had been tailed since leaving the backstage for the locker room. Kumi Harada, also known as Kurenai in AFW, along with her sworn sister Kuro were lurking somewhere in the locker room as it was, and they're not here to just chat with the bunny girl.

A couple days ago, both girls were approached by a masked girl with silver hair, who claimed that they're an old colleagues from the fight club they were in before moving to AFW. Kuro did recognize the girl as one of those girls who participated in mixed matches. The masked girl gave them a photo along with a file about their target. Kumi was opposed against the idea at first, especially since she barely know the masked girl. Even back in their gang days, she never hit on people because someone asked her.

The masked girl offered a reward of some sort, naturally, and while Kumi scoffed at the first offer, money, she took an interest when the so called Lady Phantom promised her a favor if she accepted this job for her. The girl presented herself as someone with vast connection and wealth to make sure that their relationship would be mutual. After further thinking, Kumi finally decided to give it a shot. It wasn't that much a difficult job either, just giving this bunny girl a "greeting".

She and Kuro had discussed it the night before their target's match. Kumi didn't feel like ambushing someone's who's already worn out from the match with two people, so she told her sworn sister to watch her back while she deal with this Death Bunny fellow.

Once they spotted Death Bunny heading out, Kumi would approach the girl and blocked her path by standing a couple meters away from her target. Wearing her usual red kimono that revealed the dragon tattoo on her right shoulder, she crossed her arms while observing Death Bunny for a bit. She seemed tough and grumpy. This could be interesting.
"Hmm?" Bunny would stop short of her exit by someone who looked like she came straight out of a japanese gangster movie. The well-crafted dragon tattoo on the strangerâ€
s right shoulder caught her attention immediately, spiraling down her arm with the red kimono completing her Yakuza fashion choice. D.B. caught on to the danger of her situation instantly. Someone dressed like that, confronting you alone in the locker room late at night, and Bunny was still winded from her last match as well.
Of course she could always be wrong, but her best option was to get this person talking and get any information she could. Bunny laughed on the inside…This was the first time any one of the other wrestlers she hadnâ€
t yet met in the ring would talk to her…and it may be just to give her a beating…
"Thatâ€
s some ink you have there….almost makes you look intimidating". Bunny said with a grin. Her slight jab at the newcomers appearance was an attempt to feel her out and alleviate the situation, dropping her bag to her side so she could be ready if things went South, her coat still slung over her other shoulder. "But you know….if you wanted an autograph you didnâ€
t have to wait so long just to corner me in the locker room"…
"Thanks," Kumi smirked as she heard Bunny's compliment. "Unfortunately, this isn't about an autograph..."

"We're associates from... uh, Phantom-sama," said Kuro who stepped in a few meters away behind the bunny girl. "That's what she said."

"And we're here to sent a message," Kumi stated before she rushed towards Bunny.

The plan was to distract the bunny girl while giving her an impression that she's going to be ganged. It would also seal Bunny's escape route since they positioned the girl between the lockers and themselves. From what they saw, their target's match wasn't the roughest of type, so who knew if Bunny still possessed a decent amount of strength. Despite preferring a fair fight herself, Kumi felt like she could just hit Bunny a couple of times before leaving the girl alone. They weren't here to wreck her career anyways.

Kumi would attempt to use the distraction from her sworn sister to close in and throw a punch to the girl's head. Meanwhile, Kuro would just watch the two girls while preparing herself should Bunny decided to run towards her.
Bunnyâ€
s attention would be diverted to Kuro when she snuck up behind her and spoke her piece. Once the monotone voiced woman mentioned "Phantom", Bunny didnâ€
t really need to hear anything else, this was payback for interrupting her fun during her match with Maki. The sadistic Phantom would have crushed poor Maki after the match had ended if it wasnâ€
t for Bunny, and now she sends two goons to rough her up, after a match to boot. This Phantom chick was lower than DB thought, and she had every reason to suspect that she sent these two to seriously injure her.
Before DB could fully turn her head back to Kumi after her associates arrival behind her, Kumis fist would connect with Bunnys jaw with a resounding thud. Her hat would go flying off her head to the side and force her to take several steps back almost bumping into Kuro. Holding her cheek and standing groggily with one eye closed, she noticed Kuro was just standing there while her friend did all the work. Not really having much time to think on any of this, she tossed her trench coat to Kuro behind her and started stomping towards Kumi. "Here, hold this for me will ya"?
"So youâ€
re that bitchâ€
s lackeys, eh? Too bad, I thought we coulda been friends", After saying that Bunny will bend down and run full steam at Kumi and attempt to wrap her arms around her waist, lifting her up in a bear hug briefly before slamming her back into the ground.
Kuro caught the coat of Death Bunny and looked at it for a bit before placing it on the nearby bench. She just watched as the girl ran towards her sworn sister to fight the tattooed girl, sighing. It's her turn to be the spectator this time, although she had a feeling that she might be in for a couple of fun with Bunny too.

"Lackeys...? More like hired help..." Kumi didn't get to fully explain herself as Death Bunny was already on her.

She put her arms up for defensive measure, but the bunny girl caught her in a bearhug instead of throwing a strike on her, before slamming Kumi to the ground. The tattooed girl grunted from her landing, and she rolled to her side a little, but not getting up immediately. This wasn't like in the ring where they fought on a canvas. The locker room's floor only did little in absorbing the damage, though fortunately, Kumi was used in this kind of fight.

She would attempt to swipe her leg at Death Bunny's own, hoping to cause the girl to stumble and crash onto the lockers on her side. Kumi would then pick herself up to get a safe distance while her back recovering from the nasty fall.

"It's nothing personal... just business..." she hissed to Bunny as she attempted to tackle the girl's leg.
The impact of Kumis back slamming into the ground echoed throughout the empty locker room. The move sounded like it did some serious damage. Bunny slowly raised herself up hoping the spine buster would keep the tattooed lady stunned long enough for her to get back to her feet, but apparently Kumi was more accustomed to street fights than DB would have preferred.

"AH!!!" The swipe at her leg as she tried to raise herself up caused her to lose her balance and fall hard to her side, slamming her head against the locker next to her. Grabbing her head with now a persistent ringing in her ears, DB stayed motionless on her knees while Kumi crawled back and gave herself time to recover. She needed the breather more than Kumi did at the moment. With the pain in her head starting to subside, she lowered her hands to her sides as Bunny overheard what her opponent said to her...

"....heh....saying it's not personal....only makes it more personal....all it means is that you couldn't care less about the truth....and that I probably don't even deserve what's comin....", With her back to the locker as she rose to her feet, DB still tried to reason with her attackers knowing she wouldn't stand a chance once they both got involved. Plus getting them to talk may bide her more time to recoup...
"You're right. We don't care what's your feud with this Phantom girl," said Kumi with a smirk. "Just take it as a lesson that there's people you don't want to mess with..."

From what she heard, Death Bunny was interrupting Phantom's match which ruined her fun, as well as the audience's. Both Kumi and Kuro didn't watch the said match, but they did guessed that what the masked girl meant by fun was probably not so fun for the one in the receiving end. The girl just gave that kind of presence. To be fair, however, a lot of girls in AFW seemed to pay no attention to such act, or even things like this. It didn't make it less wrong, of course, even Kumi knew that much.

Her back got slightly better now, and she was planning to take advantage over Death Bunny who's leaning against the locker. The tattooed girl would attempt to grab her target and drive a knee onto the belly of the bunny girl. She's not here to reason with her target. She's here to beat her up and deliver the message.
Damn, these two were not the talkative type at all, Bunny could have used the extra seconds to recoup and think of a plan. For just so-called "hired help" Kumi and Kuro seemed to be pretty good at what they do, not getting at all distracted by DBâ€
s ploy to buy more time for herself. Bunny did anticipate some fallout from interrupting Phantomâ€
s playtime, she just thought Phantom would have the nerve to do her own dirty work…
"Gah!!!" Kumiâ€
s knee would drive deep into Bunnyâ€
s gut and cause her to lean forward and slump against her attacker, one hand resting on the shoulder her kimono still covered. With her head bent down against Kumiâ€
s other shoulder, Bunny breathed warm pants against her opponents cleavage, trying to catch her breath after the knee strike.
"Youâ€
re right…"After several brief seconds, Bunny grabbed tightly onto Kumiâ€
s shoulders and tried to pull Kumi into her own knee strike deep into her crotch. "…..there are people you donâ€
t want to mess with".
"Hhhgg...!" Kumi's eyes widened as she felt the sharp pain between her legs, causing her to grip hard on the shoulders of Bunny as she tried not to fall to her knees. "Fucking... bitch..." muttered the tattooed girl as she gritted her teeth.

Well, she had no right to complain considering this wasn't even a match, but Kumi was annoyed as hell to say the least. Even Kuro seemed to give a little reaction, her gaze focused on the bunny girl as if she's ready to jump if only the tattooed girl gave her the word. Kumi didn't do it, though, as she just rubbed the sore spot between her legs with a hand while still holding on the Death Bunny's shoulder.

She would then attempt to grab the hair of her target and pulled the girl's head towards her a little. From there, her plan was to smash the back of Bunny's head against the locker. Considering her current state, however, she might not be able to use her strength to the fullest. Better than letting the bunny girl had the advantage, though.

"Fuck you...!"
Page 1 of 6 • 1, 2, 3, 4, 5, 6


---
Permissions in this forum:
You
cannot
reply to topics in this forum